Plan Eurotrip in 1.25 Lacs (Including Airfare!)
I covered 6 countries in 20 days within ₹1.25 lacs – 50k of which was just airfare! ($1940 and $800 respectively), and so can you. You can visit loads of places, do pub crawls and have 3 meals a day – no cutting back on fun or expenses. All you need to know is a handful of hacks and facts to have your best time ever in Europe and yet be easy on your wallet. Let me explain how to plan Eurotrip like a pro.
Here's a list of countries I covered:
Netherlands
Germany
Czech Republic
Hungary
Slovenia
Croatia
And here is a glimpse of my trip:
Here's how to Plan Eurotrip Like a Boss
Before we start, one thing worth mentioning here is that I didn't visit any museums because I had no interest. If you would like to visit them, your cost might go up a bit as the entry fees are quite high for some of these museums. But then you can always counter that by spending a little bit less on alcohol :D. Okay, let's see how to smartly plan  Eurotrip:
1. Air Tickets
Track the ticket fares for a few weeks before you book. The price usually fluctuates a lot. There is a good chance that you might get a favorable offer on some website as well! People often suggest Skyscanner but I got the cheapest tickets on PayTM (thanks to 10 % cashback). Try not to book direct flights, they are costly; but the flights with layovers eat up a lot of your time. So it's a trade-off. You have to find the perfect balance for yourself. And try to be flexible with the dates, usually tickets are cheaper for weekday-departures.
2. CouchSurfing and Hostels:
Even if you are travelling in a group / with your girl, try Couchsurfing and hostels. Hostels are a lot cheaper than hotels and airbnb. Hostels have male only/female only/mixed dorms. You can choose accordingly. You can find hostels along with reliable reviews on these websites – hostelsbookers and hostels. Good thing with hostels is that you can find like-minded people and tag with them for city tours.
'Couchsurfing' is a website that enables you to get in touch with people willing to host you and take you into their homes! You are literally the guest; you don't have to pay anything, just a gift will do. But you have to act like guests, don't demand things like you would do in a hotel. Rather share your stories and spend time with the host. Just check the references and the interests of the host on the website and then send a personalised request. It can be a little tricky to get your requests accepted by the hosts, so try to be creative in your pitches and request messages.
Here is a video explaining it all 
3. Travel at Night
For going from one city to another try booking overnight buses or trains. This way you can skip the stay-cost for that night. You can book eurolines or flixbus online. I personally liked flixbus more, they have double decker buses with toilets and wifi. Also, you can compare train and bus prices on goeuro. Sometimes you might as well get a cheap flight ticket, but they charge extra for luggage. So keep that cost in mind as well!
4. Avoid costly cities on weekends
When you plan Eurotrip, shortlist the costly cities from your itinerary and do them in weekdays. In my trip, Amsterdam was the costliest and I was there on a weekend. The hostel cost in Amsterdam for 1 night was 3 times that of a hostel in Berlin. So, never be in a costly city on a weekend. Keep the weekends for cheaper cities.
5. When in City, Walk. (Or get a Day Pass!)
Walking in the streets allows you freedom and perspectives here. But if are not that much into walking, buy a day pass which costs somewhere around 5-6 Euros in almost all the cities and then you can get into any bus, tram or metro. Uber is available as well, but never take a normal taxi.
6. Eat Street Food or from Supermarkets
Don't eat in restaurants. Whenever I ate in restaurants in Europe, I found that street food and sandwiches that I made myself after buying stuff from super markets were much better. You will  just be having meat, cheese and breads anyway. So it's better to make a sandwich yourself to treat your taste buds.
This meal costs 12 Euros. A McD burger on the other hand cost just 3 Euros!
7. Carry your University I-cards
You will get discounts on some tours if you are a student, so carry a card from your college days (nobody is going to check the date, you can carry expired ones as well).
8. Optional – Buy a SIM Card
There is public wifi available at McDonald's , Starbucks and hostels. But having a SIM with some calls and data is always better. You never know when you will need to call the embassy to report your stolen passport :D (not trying to scare you, but just in case). I bought a matrix sim card with 2GB data and 500 mins of calling for Rs 3500. And it was worth the money.
9. Fun Fact – Don't Pee much
In Europe, you will have to pay almost 35 INR every time you use a public toilet, or even more. So drink accordingly and pee judiciously. :D
Bonus Tips:
Here are some preparations you need to start if you are seriously going to plan Eurotrip
Keep multiple copies of your Passport and VISA and keep them in different bags.
Do learn some local words to be able to thank & greet people. It helps a lot. Remember of how it makes you happy when a foreigner says 'Namaste' to you? And how you become more willing to help such a foreigner if the need be!?
I hope this map will answer your queries on my itinerary.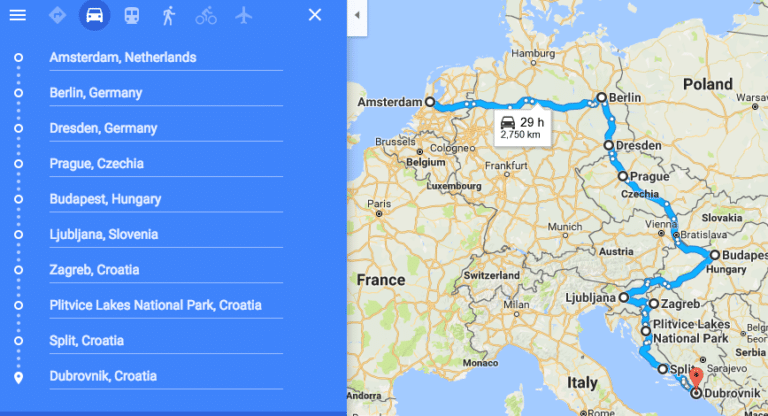 In the end, I want to emphasise on the fact that don't keep postponing your Eurotrip waiting for a friend/family to accompany you. It's much more fun when you do it solo.
So when are you going to plan Eurotrip for yourself ? If you need more details, just drop a comment, I will be happy to help you. 
Here is a recent video where I covered everything in detail.